Creative Influencer Marketing Agency in Mumbai
Influencer Marketing
Digital Consociate is the best Creative Influencer Agency in Mumbai. With a team of experienced and passionate professionals, we provide end-to-end digital marketing solutions that are tailor-made to meet your specific requirements. Our services include social media marketing, influencer marketing, and content marketing.
We help brands to connect with their target audiences through social media influencers. As an agency, Digital Consociates is responsible for managing the relationships between brands and influencers, as well as creating and executing creative marketing campaigns that will engage and convert consumers.
Our team of experienced influencer marketing specialists will work with you to develop a campaign that helps you reach your target audience. With our innovative and creative approach, we will help you boost brand awareness, increase traffic to your website, and generate leads.
We are just 'influencer marketing company near me' search way.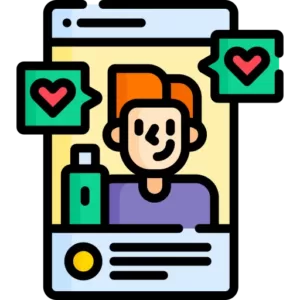 Your Strategic Digital Alliance
A Win For You Would Be A Win For Us!
Why Creative Influencer Marketing is Important in today's Day and Age?
Creative influencer marketing is important for your brand because it allows you to tap into a new audience. By working and taking mileage on influencer outreach, you can create content that is not only shareable but also promotes your brand in a positive light.
This type of marketing can help you build trust with potential customers and establish yourself as a sought-after brand in your industry.
How does Digital Consociate work as a creative influencer marketing agency?
As a creative influencer marketing agency, Digital Consociate works by connecting brands with social media influencers who can promote your products or services. This type of marketing can be highly effective because it uses the endorsement of someone with a large following to reach a targeted audience. We have a good understanding of both, the brand and the influencer, thus we are able to make a match to create winning results.
We employ different setups for influencer marketing. This entirely depends on the platform used to run an influencer marketing campaign. It is also important to take note of the nuance of an influencer who plays a role to an extent in influencer marketing strategy, however, the main campaign rides on the shoulders of the platform which is chosen for the campaign. For instance, a Facebook or Instagram gig is not just limited to the details we provide to the Facebook influencer and Instagram influencer, but to the platform make-up; like the type and quality of content one is posting and how the target audiences will engage with it.
How does Digital Consociate Builds a Data-Driven Influencer Marketing Strategy for clients?
Gone are the days when a mainstream celebrity endorsement was enough to move the needle. Now, brands need to be more strategic in their approach, one of the ways is to work with digital influencers who have a strong connection to their target audience.
With ever-growing and evolving digital marketing, Digital Consociate takes a data-driven influencer strategy for clients. As data is the fuel for developing an effective influencer marketing strategy. We create brand campaigns by understanding who your target audience is and what they are interested in, so that we can easily identify and select the right influencers and best influencer advertising strategies for maximum results.
We collect information from old campaigns to fresh ones to improve influencer marketing strategy. This data lets us know how well the influencers are performing, as well as evaluate how good the overall campaign is doing. The data is then used to determine your returns and improve your marketing campaigns.
Additionally, data can help us track the performance of your campaigns and adjust your strategy as needed. With so much competition for attention online, it's important to ensure you are using your resources effectively and reaching the right people.
Digital Consociate Set Goals for Creative Marketing Influencers
We follow a strict protocol to sort out a clear goal before the onset. As an influencer marketing company, we understand the importance of it. Setting a goal is a cure for not wasting time and resources; it also boosts the chances of campaign success. As a company, we always set goals straightaway before the campaign begins. Since our main business is influencer marketing, we would like to know from you, how you want your brand to stand out among others.
If one starts with no goal, one cannot recognize the necessary features of the campaign.
We are the best influencer marketing company, for every client, we set goals and keep many things in mind. Be it influencer marketing or micro influencer marketing, these things range from increasing brand engagement rate online and extending reach to new audiences, to improving overall brand awareness. However, this list doesn't end here it contains many other aspects as per the brands and business requirements.
In a nutshell, if you have set a goal before the campaign begins, then you can perform better in the campaign.
How does Digital Consociate Help create quality content for Influencer Marketing?
'Content is king' is not just a saying but a fact that wins. Today world digital influencers have an edge over mainstream influencers, and the demand for good quality content remains constant. We use data to help you decide which influencers to use, also it's equally significant to use a concrete base for your content itself. So we create content keeping influencers' audience, influencers' personal data, trends, and your product/brand and philosophy in mind.
In this fast pacing world, trends will sweep like a gust of wind. To overcome this we constantly update influencers for content plans. Our team of experts analyses the topics, themes, and types of content trending currently in your niche to define the most rewarding and engaging content strategy.
Influential marketing is a self-explanatory thing. Influencers' reach & credibility are key to success. DC can arrange & connect the right influencer for your brand.
How Much Does An Influencer Campaign Cost?
Digital Consociate
2022-09-28T11:00:51+00:00
With The Advent Of Social Media, We've Seen The Emergence Of A New Kind Of Celebrity: The Influencer. Not Celebrities In The Usual Sense, In That Their Fame Is Inextricably Tied Up With The Media Through Which They Broadcast, Rather Than Any Specific Discipline (Not Even Socialite).
Depending On The Platform You Choose & The Level Of Influencer You Choose The Prices Vary.
Who Is Using Influencer Marketing As Part Of Their Strategy?
Digital Consociate
2022-09-28T11:00:51+00:00
Influencer Marketing Is A Strategy That Businesses Use To Promote Their Products And Services By Partnering With Popular Social Media Users Or Bloggers.

Hence There Are A Number Of Brands That Have A Face To Define And Advertise For The Brand.
Let's Make Things Happen
One-stop solution to all your digital needs is what we are reputed amongst our clients!
Working with you would be like a cherry on the cake! Get your quote today and let us take charge of your challenges!
By submitting my data I agree to be contacted
More About Digital Consociate
Digital Consociate is a full-service creative graphic design agency in Mumbai that specializes in branding, advertising, and digital marketing. We create beautiful and impactful designs that tell your brand's story and connect with your target audience.
If you are looking for a creative agency in Mumbai that can help you with your digital marketing, then look no further than Digital Consociate. We are one of the best SMO agencies in Mumbai and can help you with all your social media needs. From creating content to managing your online reputation, we will do it all for you. So if you want to take your business to the next level, then contact us today and see what we-one of the top digital marketing agency in Mumbai can do for you.